Tech Valley Continuity LLC
Turning Potential Disasters into an Annoyance®


Tech Valley Continuity works with public, private and not for profit organizations to help them develop and improve their
Business Continuity and Disaster Recovery Plans. To get a better idea of our offerings, simply mouse-over the pictures below.
**NEW** The terrorist attacks in Paris are shocking and horrific. They also threaten life as we know it.
To help prepare your business for an attack, Tech Valley Continuity has prepared a simple white paper
with a few tips and techniques for areas where you might be at risk.
Click here to download a PDF of Preparing Your Business for a Terrorist Event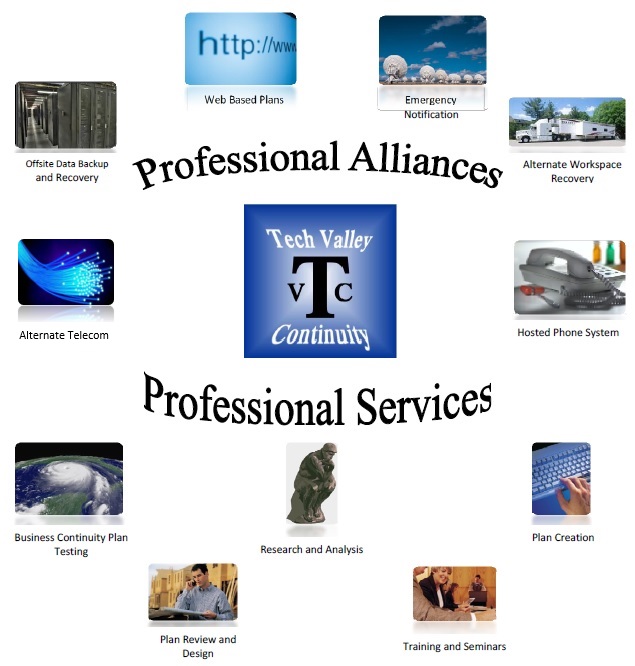 Tech Valley Continuity, LLC. provides business continuity and disaster recovery planning services to a wide range of public and private organizations. Services include: Risk Analysis (RA), Business Impact Analysis (BIA), Plan Testing and Plan Audits for key vendors and customers. We model our Disaster Recovery / Business Continuity plans against the national standard - NFPA 1600 Standard on Disaster / Emergency Management and Business Continuity Programs
Tech Valley Continuity, LLC. promotes a full and complete business continuity planning process, performed with due diligence and conforming to industry best practices, and Tech Valley Continuity, LLC. asserts that only by employing these practices and applying them to your unique business environment can a comprehensive business continuity plan be developed.
Copyright © 2015 Tech Valley Continuity, LLC. All rights reserved.